HOT AIR BALLOON FLIGHT click on any photo to ENLARGE
July 3, 2006. The weatherman cooperated and our Hot Air Balloon flight was a go. Paddy and I chose the evening flight and met the US Hot Air Balloon Team at 6:30 PM at the Netherlands Inn and Spa in Strasburg, Pa, not far from Lancaster, PA.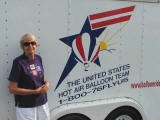 The professionals, Pilot Richard Hess and Crew Chief Phil Folkman directed the ground crew to remove the balloon from the chase vehicle and set things up. After the mechanical assembly, the balloon was filled with ambient air by gasoline driven fan equipment. After a few internal balloon photos, the propane burners were fired up filling the balloon bag with hot air giving it the necessary lift for the weight of its 10 passengers.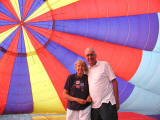 Waving to our ground crew as we lifted off and seeing our balloon shadow on the earth was exciting. The exhilarating flight provided views from the basket that were awesome. Despite the height above ground, there was a very calm and enjoyable feeling as we passed over the well appointed Amish farms. I was also very pleased to view my favorite Strasburg Railroad and to later see the train on a siding in Paradise, PA.
Our pilot, Richard Hess, a 35 year veteran of ballooning was a wealth of knowledge, explaining the fine points of controlling the balloon, demonstrating his professional navigation equipment, and being a well informed guide to all the Lancaster County areas we covered on our flight.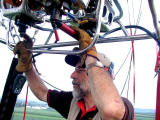 After a smooth landing, Pilot Hess invited the children to assist in packing up the balloon. It was clear that the kids enjoyed the task. The kids's weight helped pack the balloon tight into its packing bag.
Arriving back to the starting area via the chase van, Pilot Richard Hess opened a bottle of Champagne and offered his passengers a toast along with cheese and crackers. For Paddy and me, the balloon flight was a most enjoyable experience that we will remember forever. Many thanks to Paddy for purchasing the tickets as a birthday gift to Ken. (Thank you Paddy !).