SOUTH STREET PHILADELPHIA
click on any photo to ENLARGE
February 9, 2008. A street with artists and eclectic boutiques makes south street like no other in Philadelphia.
Risqué stores abound and if you think you were corrupted, you can take a free 'go to heaven' test right on the street.
This eight foot tall sign outside this bar said: "voted the best cheese steak on South Street"; however, after waiting 15 minutes for a cheese steak, we found the "chef" out in the street watching a fist fight over a parking situation.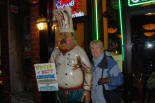 A block away was a real Philadelphia Cheese steak shop. Mountains of steak on the grill and a very long line. I wanted one, but the line was too long for me.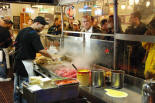 Remember the Three Stooges? Well Larry Fine was born here on South Street.
Looks like another place to revisit when the weather gets warmer.
Click HERE to view our 2010 visit