RED BANK KABOOM FIREWORKS
click on any photo to ENLARGE
July 3, 2008: New Jersey's largest fireworks display was spectacular again this year in Red Bank, NJ. The weather was perfect.
No sooner did we arrive when we met Mayor Menna. We congratulated him on this fine event and he was also happy that the weather was cooperating.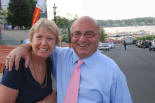 Paddy and I were hungry so we stopped at The Downtown restaurant on Front Street. Sarah was our attentive server, the food was excellent and the blues band was very entertaining.
After dinner we did some people watching. (actually girl watching).
We had some time to spare so we walked down broad street. Interesting that many were sitting blocks from the fireworks just to enjoy the aerial rockets and avoid the exiting crowds.
Someone called out my name and Paddy and I were surprised to see Jim Kelley and his family. We know Jim as a member of the Happy Days String Band.
We made a short visit to Marine Park to see how busy it was. Yep, it was full and overflowing. There was face painting, food vendors and interesting characters.
We left Marine park and walked back to Riverside Gardens. Around 9:20 PM the fireworks started. We had an excellent view right across the water from the barge. The fireworks were great !!
Another splendid visit to Red Bank, NJ.