ATLANTIC HIGHLANDS PRINCESS
click on any photo to ENLARGE
July 4, 2008: Paddy's birthday today and we celebrated aboard the Princess for dinner, dancing and fireworks along the Shrewsbury River in New Jersey.
While waiting to board, we heard a familiar accent and sure enough, Paddy met Barbara who was also born in Buenos Aires, Argentina.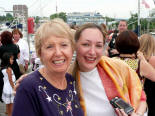 It was interesting to pass restaurants that we had frequented, but this time from the river side.
Under the Highlands Bridge and past some expensive real estate.
Over the public address system came the announcement: "dolphins". This year a group of dolphins left the Atlantic Ocean and followed food fish up the Shrewsbury River. The animal rights groups were beside themselves over what to do including trying to stop all boat traffic on the river and stopping fireworks excursions. Most folks think the dolphins are smart enough to leave on their own after they have eaten all the food.
Shortly after the dolphin search, came the dinner call. Everyone descended to a lower deck and since Paddy and I were hungry and since the food was excellent, I didn't even think of taking photos.
After dinner and back on the second deck, it was starting to get dark and soon came the fireworks.
At the conclusion of fireworks, there was cake and coffee. The DJ announced several birthdays including Paddy's, and we all sang happy birthday. It was the end of a very special day.
Happy Birthday Paddy !