BELVIDERE & DELAWARE RIVER RAILROAD
PHILLIPSBURG, NEW JERSEY

click on any photo to ENLARGE
July 6, 2008. Hiding quietly on the internet was a webpage about a steam train ride out of Phillipsburg, NJ. Only an hour and a half away, Paddy and I decided to take a ride.
We bought our tickets and ventured downhill toward the Delaware River and looked across the water toward Easton, PA. We met a family whose kids were launching a boat and tubing for a leisurely ride down river. We were shocked to find out that at the last flood the river came up to the spot were we stood. I think it must have been at least 22 feet above the normal river level.
Hearing the familiar whistle, we were on hand for the arrival of the train.
We boarded the train and walked to the snack car and bought water and a refrigerator magnet while this gentleman answered our questions about the history of the railroad. He was very interesting and informative.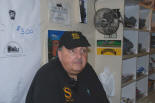 It was a real nice ride. Over the PA system was some interesting history information, followed by some enjoyable old time music. What was especially nice was the volume was perfect, many places seem to blast music to distortion, but not here! Lots of interesting Delaware river views, steel railroad bridges, Rt 78 bridge, lime kilns, and watching the flagman stop traffic on several cross roads. On the outgoing trip we sat behind the engine in a car with an open window seat. On the return trip we passed through an air conditioned car to another car with an open window seat.
We thanked the conductor and fireman for the nice ride and took a few more photos of #142.
Hunger set in and we were initially going to the Lambertville Station Restaurant for dinner when we spotted the Stockton Inn. Food and service was great.
A fun day on the railroad !