ALLENTOWN, NJ FALL FESTIVAL
click on any photo to ENLARGE
October 12, 2008. Another beautiful fall day so off we went to a festival. Allentown, NJ is a very small town compared to it's namesake in Pennsylvania, but today lots of folks turned out for a fun day. There were several bands and musical shows at the festival and many of the homes on Main street were decorated for Halloween.
Paddy, a native of Argentina, found Mario, another Argentine native, selling his famous Chimichurri seasoning. Chimichurri is a mainstay seasoning in Argentina used for cooking or as a topping for meat, poultry or fish. Paddy will be cooking a steak tomorrow so I will sample the famous Chimichurri.
We walked down to the river and found several Civil War veterans who gladly posed for a photo.
Paddy and I were both surprised to find a bamboo forest. We didn't think bamboo grew in New Jersey, but here it was.
Next to Peter Sensi park we saw an antique car show. This is the first time we saw a BANTAM automobile. (The American Bantam Car Company was the first to design and build a JEEP).
There was a large area with those "air filled climb around" venues for the kids.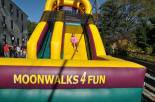 Now I understand the origin of the "stepping stone".
HAMILTON, NJ
Being such a nice day, we got back in the car and traveled west. We drove past the "Grounds for Sculpture" in Hamilton, NJ. There were giant sculptures everywhere and there was a Sculpture Museum that was having a private event today.
PRINCETON, NJ
We continued on to Princeton, NJ and did a walk around on campus before having dinner at the Alchemist & Barrister Restaurant & Pub.
Great weather, great trip.