SEA GIRT LIGHTHOUSE
click on any photo to ENLARGE
November 9, 2008. An internet search showed an open house at the Sea Girt Lighthouse. The weather was beautiful so off we went to Sea Girt, NJ.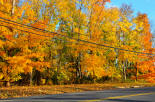 The lighthouse guide told us that the Sea Girt Lighthouse was built to tell seaman how far they were from the shore, at a point 20 miles south of the major Twin Lights Lighthouse in Atlantic Highlands, NJ.
The key part of the light beacon was the innovative Fresnel lens that was removed and placed on protective display within the building.
The lighthouse was also the home of the lighthouse keeper and his family. Paddy shows how comfortable the home was.
The lighthouse, a historic museum, had photos and actual items from the ill fated Moro Castle ship that burned and came ashore by Asbury Park in 1934. It also showed documents and photos of a German submarine sunk off the Jersey Shore.
Heading north, we passed Ocean Grove and found the winter configuration of "tent city" where the tents were removed and stored at the rear of the buildings. Summer photo at the right.
Arriving at Asbury Park, we were reminded how close the Morro Castle was to the building. It must have been scary to have been a spectator in 1934
Hunger set in and there we were at McLoone's Salt Water Beach Cafe, where the old Howard Johnson building once stood. The food and service was excellent. Our waiter showed us the classy Supper Club upstairs, which Paddy and I will have to visit soon.
After dinner, we strolled into the Asbury Park Convention Hall. There were several establishments going strong this evening.
One last look at McLoone's and the Asbury Park boardwalk, then home.