KING OF PRUSSIA MALL
Valley Forge Exit (#326) off the Pennsylvania Turnpike
click on any photo to ENLARGE
November 21, 2008. King of Prussia is one of the largest malls we have visited in Pennsylvania, it has all the premium stores and the best Christmas decorations too.
The area dedicated for Santa was very large and very well appointed.
Many of the stores had their own decorations. Our famous "mirror shot".
Nordstrom holds onto the tradition that the Christmas season starts after Thanksgiving !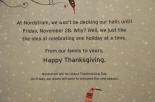 Paddy wrote a letter to Santa and then we left the mall.
A very enjoyable visit and unlike the Premium Outlet Stores that are outdoors, we enjoyed the warm indoor mall while the temperature outdoors was 29 degrees.