KOZIAR'S CHRISTMAS VILLAGE
click on any photo to ENLARGE
December 12, 2008. During the Christmas season, Koziar's, located in Bernville, PA is one of the most popular places to visit in Pennsylvania . We thought grandson Liam would enjoy seeing the wonderful lights and hear the great Christmas music so we traveled to Bernville, PA.
Before Koziar's, we stopped for dinner at Austin's Restaurant and Bar just outside Reading, in West Lawn, PA.
Koziar's is located in open farm country and on the drive in, the sky was pitch black until we came over a hill and saw a portion of the awesome village overview.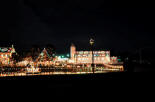 After paying the admission, we stopped at the first refreshment and souvenir building to check out the model trains.
Lights, lights, lights, wonderful lights.
With over 500,000 lights, it's no wonder they have a busy maintenance man with a wagon full of new bulbs.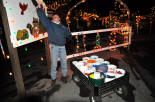 There was a long line to see Santa, but Liam is too young to understand the Santa story, so we passed by Santa Headquarters on this village trip.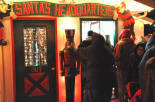 It was 24 degrees outside, so we took a short break in a heated concession building and took our "mirror shots". Liam was starting to get a little tired.
Koziar's had many hundreds of plaques depicting cartoon characters, kids Christmas stories and religious themes. They had cutouts for photos and places to stand next to 15 foot Santas.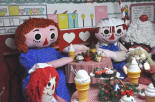 End of tour, we warmed up a bit in the concessions building, took a few more photos and then home. It was a most enjoyable trip !!
While the adults had a fun time, grandson Liam, (only 1 year old) was a little too young, and a little too tired, to enjoy the village. When he is a little older we will return and he will definitely have a great time.