FAIR HAVEN, NJ FIREMAN'S FAIR
click on any photo to ENLARGE
August 29, 2009. A short trip to the fair to pick up some clam chowder and take some photos. There were lots of rides for young kids and they were having fun.
Small world as I found a friend of mine and his son.

There were many "hands on" games to play with. The water game at the right had a winner who walked away with a large stuffed animal.
This lad put a smile on my face. He was supposed to slam his mallet to the device and a rubber frog was to travel 3 feet to the target. His frog went about 4 inches. The best part of all was that he didn't get frustrated, he just tried again and again. I smiled.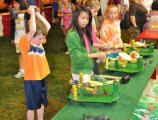 There were no muscle men around, so this young lady took a chance and managed to raise the weight two markers.

The rides for the older kids had long lines. Everyone was having a very good time.
I opted for the frozen quart of clam chowder and will surely enjoy it within several days.