BROCK FARMS - COLTS NECK, NJ
click on any photo to ENLARGE
September 28, 2009. If you love photography, fall is a great time to get out and see the colors. I always make a stop at Brock Farms on Rt 34 near the Colts Neck Inn. (Funny comments are mine).
Inside Halloween Headquarters is every kind of costume, lawn ornament and Halloween artifact you can think of.
Former rock star?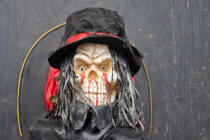 IRS agent and taxpayer?
Hoping the new health care has a dental option. Future heart surgeon?
Totally out of place with all the ugly/scary mannequins.

If you don't find it here, it doesn't exist.