THE STRASBURG RAILROAD SHOP TOUR
STRASBURG, PA
click on any photo to ENLARGE
October 24, 2009. Noon and the tour opened. Dave, our tour guide, collected our signed liability release forms, since we would be around large equipment in a working shop environment.
Lauren posed next to the big Canadian National #7312 engine.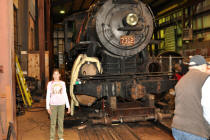 Our tour guide said he worked in the carpenter shop, but he knew all phases of the shop and answered all questions with facts, anecdotes and good humor.
It's one thing to take photos of big equipment, but another to walk among the very large lathes, drill presses and engine parts.
As we left one of the shop buildings to enter another, we saw a small Cagney steam engine pulling several cars loaded with kids. At the same time, the Main Strasburg steam train was arriving at the station.
In first shop, engines were torn down to boilers and parts for major refurbishment . In this second shop, working engines and cars were here for minor repairs and routine maintenance.
The tour was great, mainly because of our tour guide Dave; he explained things in layman's terms and he clearly had a vast knowledge of what goes on in the shop, because he worked there for many years.