GROUNDS FOR SCULPTURE
HAMILTON, NJ
click on any photo to ENLARGE
November 15, 2009. On a day trip last year, Paddy and I passed the following statues along the highway. We saw a sign saying "Grounds for Sculpture" and after returning home and after some internet searches we were persuaded to return someday and visit.
Today's temperature was 73 degrees, it was sunny, so this was the day to visit. We started at the Visitor's Center and saw the introduction movie. Seward Johnson described how his brainstorm developed into a 35 acre sculpture paradise. This video would prove to be very important to us at lunch.
Getting hungry at 11:20 AM, we picked up a site map at the visitor's center and headed out toward the Rats restaurant. Along the way was great sculpture and very comfortable nature oriented walking paths.
We were the first to arrive at the restaurant and were happy to get a great outdoor table facing outstanding views.
Part way through our meal, I looked up at the new arrivals and was shocked to see Seward Johnson, the founder and genius of Grounds for Sculpture and I said: "Hello Mr. Johnson, I recognize you from the movie at the visitor center". He was such a gracious man that he temporarily left his party and sat down with Paddy and allowed me to take a couple of photos. He was a 'down to earth' man and he was pleased that we were enjoying ourselves. This was indeed the highpoint of our trip ! What a tremendous surprise to see the founder and say hello to him !
Our lunch was excellent and of course we ended with great desserts. I inquired of our server as to the origin of the restaurant name: RATS. He said, as a kid Mr. Johnson's favorite book was: "The Wind in the Willows" whose main character was Walter Rat (Ratty) which was Mr. Johnson's favorite character.
After lunch, we took one of the many walking paths to see the next sculpture area. We came upon Luncheon of the boating party and the sculptures was very life like. Can you spot Paddy in photo #1 and of course she is also in photo #2.
Continuing our tour, we saw many different sculptures and along the way we found places to sit down and enjoy the surroundings.
Paddy and I couldn't believe the great weather and the foliage in the middle of November.
Many sculptures were 'hands on'. The 'kids' really liked this one. You pick up a metal mallet and hit various shaped metal objects and different musical notes are produced. This was called Seat of Sound. While in the area we found a mirror and took our famous "mirror shot"
We entered the Museum Building and checked out some more interesting sculptures.
After much walking, we stopped for a beverage at the Domestic Arts Building, Museum Shop and Cafe. We relaxed outdoors among many interesting sculptures.
After our beverage break we entered the Water Garden.
We ended our tour at this point. As we headed toward the visitor center we spotted a student, off in the distance, studying on the lawn. Rather than be a disturbance, we walked around the area, only to be fooled by a sculpture ! We checked the name of the artist and it was none other than Seward Johnson !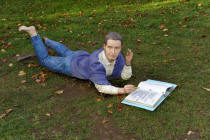 In the parking lot was a peacock, who was not disturbed by the cars that went by nor by my picture taking. Obviously this peacock was very much at home here.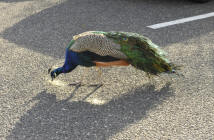 It was a perfect day. The weather was warm and sunny, the sculptures were great AND: meeting Seward Johnson at lunch was something Paddy and I will never forget.