CARDBOARD CLASSIC
JACK FROST MOUNTAIN, PA
click on any photo to ENLARGE
March 5, 2010. This adventure was advertised as Preston & Steve's Cardboard Classic by radio station WMMR and presented by Coors Light. The idea was to build a sled out of cardboard, tape, string, glue and paint and compete on the Tubing Hill. Awards were given in the categories of Best Design and Best Coors Light Sled.
The activity began around 10 AM with the hauling of sleds up the hill in preparation for the down hill run in 3 of the 4 lanes.
Arriving early, we passed sled creations queued up for their turn at the hill. There were over a hundred sleds participating today.
It was clear that all the participants and spectators were having a great time !
The downhill activity was very exciting and fun. Some sleds made it to the end of the hill, some got half way down and many crashed at various places on the hill.
Jack Frost Mountain had a well equipped First Aid squad, but the event ended without incident.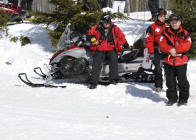 The crowds were large and everyone had a great time !