HERSHEY STORY MUSEUM
click on any photo to ENLARGE
March 21, 2010. We arrived around noon and had a great lunch at the Devon Restaurant at 21 West Chocolate Avenue in Hershey. Walking across the shared parking lot, we arrived at the Hershey Story Museum. Inside was a very spacious two story facility with a complete history of Milton Hershey, his family, his business and his schools.
On display was a complete story of the making of chocolate starting with the Cocoa Bean and the milk and the interesting machinery that blended and smoothed the chocolate.
There were lots of exhibits outlining Milton Hershey's work ethic and many movies and advertising signs from the old days of his business.
Many "hands on" exhibits were built to explain the chocolate company history, including map pointers that Kids were able to move, push button displays and many telephones throughout the museum with interesting messages. One of the popular exhibits took your photo in a booth and allowed you to send it to anyone over the internet. A newspaper headline was added before it was sent out.
There were several historic artifacts that explained how life was in the old old days.
The museum had a cafe, but we just had lunch, so we didn't even check it out.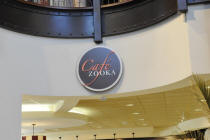 There were many things for kids to see and do; however, if you were a history buff, there was so much stuff to read and see, that kids wouldn't stay interested that long.
At the gift store, I noticed that there were real Reese's Peanut Butter CUPS.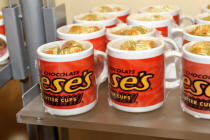 Ending the day we passed Batman and stopped at Duke's Riverside restaurant along the Susquehanna River and had a great dinner. After dinner the young guy crashed.