XTREME MACHINES
FASHION SHOW AND STUNT DRIVER SHOW
click on any photo to ENLARGE
April 17, 2010. Paddy and I traveled west on Rt 33 from Freehold to check out the fashion show at Xtreme Machines.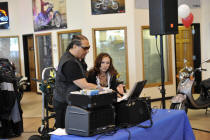 The staff at Xtreme Mahines is very friendly and helpful.
The store is well stocked with all types of fast machines.
We were surprised and delighted to see a show by a very talented stunt driver by the name of Michael Barbarino. He was amazing !!