WW II WEEKEND 2010 - GATHERING OF THE WARBIRDS
READING, PA
click on any photo to ENLARGE
June 4-5-6: The Mid Atlantic Air Museum was host to the "Gathering of Warbirds", the largest and most well known event of its type in the world.
The central theme was WWII warbirds and the re-enactor groups and those dressed in period clothes provided an authentic 1940's atmosphere.
Strolling toward a long line of visitors waiting their turn to check out this large aircraft, we ventured upon the AVRO Lancaster heavy bomber. The kids especially loved the ability to climb aboard and check out the insides of this awesome bomber.
Paddy posed with a member of the crew, who answered our questions and gave us a history of the craft. This particular Lancaster, out of The Canadian Warplane Heritage Museum in Hamilton Ontario, is one of only two in existence that are still air worthy. The other Lancaster is in the UK.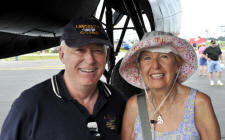 Whether in the air or on the ground, the Lancaster is an impressive sight.
For those who wanted to take a ride, there were many aircraft to choose from.
A small sample of those magnificent Warbirds:
There were many military vehicles and different groups put on parades during the day.
There were re-enactors for battle and this group put on an actual Catholic Mass in Latin, officiated by Chaplain Robert Berger (Col).
A fantastic weekend in Reading. Looking forward to next year.