THE GREAT ALLENTOWN FAIR
click on any photo to ENLARGE
September 4, 2010. One of the best fairs in the east, so we travelled to Allentown, PA to once again enjoy the festivities.
After parking on the infield, we met up with this friendly clown and nearby was a large crowd at the "Big Cat Encounter show".
At the west end of the fair was the Lehigh Valley 4-H Livestock barns. Lots of fine animals with award ribbons clearly earned.
On our way to the Agri-plex was a section of "hit-or-miss" engines and other antique farm equipment.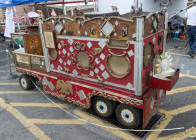 At the Agri-Plex we met a very pretty Sales Representative.

Agri-Plex was holding a 40's fashion show today.
The exhibits were varied all the way from Table Settings to a 1029 pound pumpkin.
Back outside and we found many games that would earn you a stuffed animal if you won.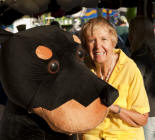 Rides and food took up a lot of real estate at the fair and the midway had it's "unusual animals" on display. When I was a kid in the 50's, the "unusual" was people "tallest, smallest, fattest, woman with no stomach etc".
Many years ago I lived in Allentown and it was good to see that Vince's and the Ritz Barbecue were still in operation and still being very successful.
Yocco's didn't participate at the fair so I had a really good hot dog at Willy Joes. For dinner Paddy and I stopped at Veon's and the food was good and the prices were excellent.
With all the interesting things going on, one would not guess that getting a haircut would be popular, but there was a line waiting to get clipped.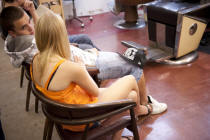 Our last stop at the fair was the Jimmy Sturr Orchestra. Great music. Took a snapshot of the orchestra and he female vocalist with my pocket camera. Paddy and I had a couple of dances too.
Yep, Allentown could have the best fair around.