SICKLES - LITTLE SILVER NJ
click on any photo to ENLARGE
September 9, 2010. Having moved away from the immediate area, I hadn't visited Sickles in over 25 years. Back then, Sickles was a modest market that sold the best Jersey White Corn around. Today I was shocked to see how it grew into a major market !
No doubt, Sickles is ready for fall and Halloween.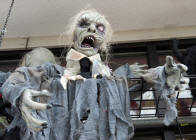 Inside were well stocked counters with vegetables, fruits, meat and cheese.
Homemade soups, a full size bakery, a florist shop and a gift shop.
Lots of beautiful flowers and outdoor accessories.
Next door is the Parker-Sickles Farm Park, with baseball and soccer fields.
It was great to see business people take risks, expand their enterprise and hire lots of help to run things.