MONTREAL UNDERGROUND CITY
click on any photo to ENLARGE
September 25, 2010. Our vacation destination was Quebec City but we stayed overnight in Montreal to break the long drive into two parts.
Along the way we had relaxing lunch at The Fairways Restaurant, which is part of the Catskill Golf Club in Catskill, NY.
Arriving in downtown Montreal, we checked into the Hotel Europa and walked a short distance to the Montreal Underground City. The official name of the underground was Les Cours Mont-Royal. It appeared that most of the stores were of the "upscale" variety. It was after 7 PM and all areas were closed except for the food court.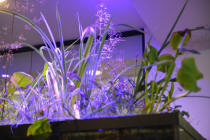 It was clear that many fashion shows were on the agenda because of the well appointed runway and visitor seating.
Mannequins everywhere to show off the wearing apparel.
The fast food vendors were still open and we were hungry after the long drive.
We returned to the hotel, took a short tour and off to bed.