TOUR QUEBEC CITY, QUEBEC
click on any photo to ENLARGE
September 28 - October 1, 2010. The city is built at two different height levels, Haute-ville called the "Upper Town" contains government buildings, art museums, military museums and is the only walled city in North America, north of Mexico. The "Lower Town" contains antique shops, art galleries, restaurants and boutiques. (Because of rain every day, Paddy and I did not tour many of the available tourist attractions. On rare occasions, the rain would stop for a few minutes for picture taking).
Starting at the Fairmont Hotel, located high on a bluff overlooking the St Lawrence River, we checked out the architecture and the shops nearby.
Horse drawn carriages and street musicians added to the enjoyment of the area.
200 feet from the Fairmont Hotel is a preserved area of Chateau ruins from previous periods in Quebec City's history.
Within walking distance was the famous Quebec Citadel, a British Fortification. (The pouring rain kept us from touring the vast outdoor area of this installation).
Another nearby historic site was the Military Drill Hall. This huge building was destroyed by fire in 2008 and rebuilt.
Lower Town with its antique shops, art galleries, restaurants and boutiques, could be accessed by carriage ride, cab, personal car or the most used way: via the Funicular Railway. Lower Town itself is on a hill, so steps are present everywhere.
Sprinkled within the shops, restaurants and art galleries were private homes with their distinctive architecture and colors.
In addition to the many adult tours, lucky school kids had day trips to the area.
Talented street musicians and caricature artists entertained visitors. Some visitors picked up rhythm sticks and played along.
When the rain picked up around noon, we ducked into one of the many restaurants for lunch.
Artists painted many murals in the area.
This mural had such depth that it was hard to believe that it was painted on a flat surface.
The Notre-Dame-des-Victoires church was first built in 1687. It is one of the most visited historic buildings in the area.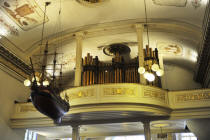 Even from Lower Town by the St Lawrence River, the Fairmont Chateau Frontenac stands out as a landmark.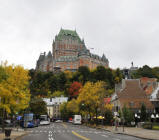 Despite the rain, Paddy and I had a great time. Quebec City is a wonderful place to visit.