FAIRMONT LE CHATEAU FRONTENAC
QUEBEC CITY, QUEBEC
click on any photo to ENLARGE
September 28 - October 1, 2010. High on a bluff overlooking the St Lawrence River, Le Chateau Frontenac, a 5 star hotel, is the very center of all Quebec City activities. After looking at many brochures, all of which suggested a must-see visit to the hotel, Paddy and I decided to stay there. Attached to the hotel was self parking or one could take valet parking.
On the terrace level of the hotel were many boutiques and gift shops. These shops were accessible without going through the lobby and non hotel guests were encouraged to shop. Starbucks, with its chairs and tables, was a very popular respite for many.
Hotel tours were very popular and they were scheduled inside the hotel by the shops. Many excursion busses stopped at the hotel for these tours.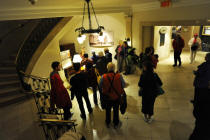 From the 16th floor, we had a great view of the city.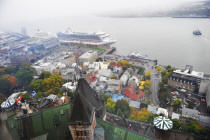 For our first dinner, we chose Le Champlain restaurant. The restaurant was elegant with plush surroundings and Paddy and I had a great view of the St Lawerence River from our table. Ken ordered the Filet Mignon Flambé and we enjoyed watching the preparation. The food was excellent, very well presented and very tasty.
As part of the Fairmont Gold package, we had access to the Fairmont Gold lounge which had snacks and beverages all day. In the morning there was a complementary breakfast with hot and cold offerings. Jean-Luc Fluet, Fairmont Gold Supervisor, and his staff were very pleasant and accommodating.
While we didn't partake of these athletic offerings, we checked out the pool and the gym.
For our second evening dinner, we stopped at Le Cafe de la Terrasse restaurant for the buffet. We enjoyed tasting the many different kinds of foods available and Paddy especially liked the excellent dessert bar.
Daytime or night, the Fairmont Hotel was impressive.
It rained the whole time we visited, so it was especially good that we stayed at the Fairmont, which was a very short walking distance to everything. It was also nice that all hotel personal were fluent in both French and English. Paddy and I had a most enjoyable and memorable experience.