MONTMORENCY FALLS
click on any photo to ENLARGE
September 30, 2010. We took a driving tour of ILE-D'ORLEANS, a small island about 20 miles from Quebec City. On a rainy day, there was nothing seen that would make us stop and get out of the car. There were lots of houses with Red Roofs and a giant power grid crossing the island.
On our return to the mainland, we saw a waterfall off in the distance and decided to investigate. It turned out to be a very worthwhile place to visit. A cable car took us to the top of the falls area where we found a nice restaurant. Because of the rain, the photos through the wet glass on the cable car made them look blurry.
The Montmorency Falls is 98 feet higher than Niagara Falls. There was a suspension bridge for those who wanted a closeup view and other places in the park for photos, but the rain was coming down in sheets and nobody was out and about.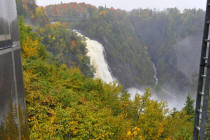 Once at the top and since it was lunchtime, we ate at the Manoir Montmorency; the food was delicious.
This pretty young lady answered several of our questions about the restaurant.

While there, several bus tours came and went. Even in the rain, the falls and the restaurant were a great attraction.
When the rain let up a bit, we returned to the starting point via the cable car.
On a clear, sunny day, one could easily spend some time exploring the falls and the park.