FREEHOLD JACK-O-LANTERN CONTEST
click on any photo to ENLARGE
October 23, 2010. In Monmouth County New Jersey, Freehold is one of the best places to enjoy Halloween festivities; this evening, it was the Jack-O-Lantern contest. Paddy and I enjoyed an excellent dinner at the American Hotel before crossing the street to the Hall of Records building.
The contest was divided into age groups. Paddy and I were amazed at the skills of those "precocious" 5 year olds and under.
Pumpkins are just plain fun. There were numerous prizes and the winners looked very pleased to receive them.

One of the highlights of the evening was the "Mummy Wrap" where kids would pair off and one would wrap the other with toilet paper. Prizes were given for the best wraps.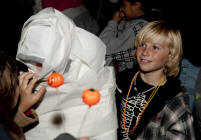 There was also a count the M&M contest, also with prizes.
Dee Best Entertainment provided music and a vocalist to lead the kids in many fun dances.
Crossing Main Street from the Hall of Records we heard enjoyable music coming from Sibling Rivalry, a brother and sister team that entertained the crowds, in the summer, at Red Bank's Street Life.
I happened to take a photo of a cute baby and later the mom found me and asked how to get a copy, so I gave her my webpage card. She also showed off her quadruplets. Wow, 5 kids in this economy; her husband must have a great job.......
Yep, another splendid event in Freehold.