SEWARD JOHNSON DOUBLE TAKE EXHIBITION
ROWAN UNIVERSITY
click on any photo to ENLARGE
October 26, 2010. Glassboro's Rowan University was host to this wonderful exhibit. Seward Johnson, founder of the Grounds for Sculpture, donated this special collection to the university. Entering the campus at the guard post, we were given a map of all ten sculptures and were able to park close to everything. According to the map we were closest to sculpture #2 so we checked it out first.
Titled: BETWEEN CLASSES, we discovered the amazing detail in Mr. Johnson's work and we had fun with it too.
Using the map, we doubled back to sculpture #1, titled: COMING HOME.
We knew the sculpture titled: FAR OUT, was the one on the left, because the guy on the right moved.
Titled: A LITTLE TO THE RIGHT, the detail on the sweater and the glasses made us shake our heads in amazement.
TIMES UP, placed adjacent to US Rt. 322 in Glassboro and must have been a head turner to strangers just passing by the University.
"No madame, you cannot pay for the ticket now, you must plead guilty and pay the township clerk with a check or credit card."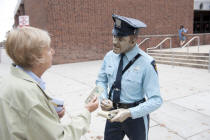 Having viewed half of the collection, and being at the Student Center, we stopped in for a late lunch. It was an all you can eat buffet for only $8. The food was quite good too.
#6 titled: POINT OF VIEW, was in a large open area between the Student Center and the Library. Seward Johnson has a great sense of humor to "jab" himself within the sculpture document.
Rowan University has a huge campus with many beautiful areas.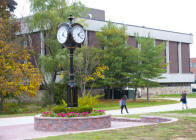 Titled: YUCK, GO FETCH, captured the devotion of man's best friend.
Titled: OOPS, was complete with paint stains on the man's pants and shoes too.
We took a shortcut through Wilson Hall and heard a fabulous band practicing. If you closed your eyes, you would swear you were listening to a seasoned, professional big band.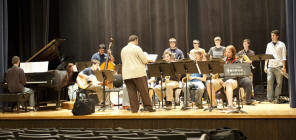 Titled: COURTSIDE STRATEGIES, was located in another open area between buildings.
Rounding the bend we saw the last sculpture titled: MIDSTREAM.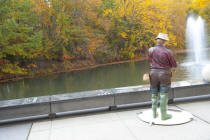 As we approached the front of the fisherman, our comment was "Oh Nooooo", the fishing pole was missing. Our curiosity was answered by Laura Pasit, Associate Curator of the Sculpture Foundation in Santa Monica, Ca who said: " Because Mr. Johnson encourages people to touch and interact with the sculptures, it is not uncommon for them to require a good cleaning and some minor restoration at the close of a show".
Located by the fisherman were other unique items, adding to the enjoyment of the area.
Paddy and I sure had fun today at Rowan University. Seward Johnson is a most talented artist, his work adds much to the beauty of the campus.