DOWNTOWN GHOST TROLLEY - FREEHOLD, NJ
click on any photo to ENLARGE
October 28, 2010. The Freehold events website told us that the trolley would leave every half hour from the American Hotel, so Paddy and I decided to have dinner there. Dinner was excellent and our server, Christin, gave us great service.
The first trolley left at 7 PM while we were having desert, so we walked a few steps to the Gazebo where live music was playing. The young vocalist on the left was Samantha Mancino and guitar-vocalist on the right was Dayna Wottrich. They were very entertaining.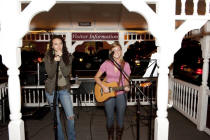 Another couple also performed anonymously (they didn't return my name card).
7:30 and the trolley arrived. Looks like the first group of passengers had a good time.
The second group was ready to travel and looking forward to the tour.
A vendor was in front of the hotel and they sure picked pretty girls to help out.