KING OF PRUSSIA MALL 2010
CHRISTMAS DECORATIONS
click on any photo to ENLARGE
November 29, 2010. One of the largest malls in this part of the country, the King of Prussia mall had some very nice decorations.
The mall is actually two large malls connected by an outdoor walkway. One mall, THE PLAZA, has a Neiman Marcus, Nordstrom and Lord & Taylor as anchor stores. The other mall, THE COURT, has a Macy's and Bloomingdales.
Entering the Plaza, we ventured over to Neiman Marcus where we had lunch at the Zodiac Restaurant.
After lunch, we took more photos of the decorations and headed toward Santa.
We walked the short distance from the Plaza and entered the Court. We found a mirror and took our "famous" mirror shot.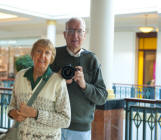 More decoration photos and off to see the Santa at the Court.
Decorations were excellent and we enjoyed our trip.