BAND OF TWO RIVERS
CHRISTMAS TREE LIGHTING 2010
FAIR HAVEN, NJ
December 4, 2010. The traditional Christmas Tree lighting for the large crowd of adults and kids listening to the music and waiting for Santa. Director, Don Swinchoski, led the band with a number of Christmas selections that were well received by the audience.
(click on the words to hear the music, click on the picture to see a larger picture).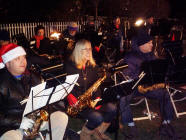 Band of Two Rivers, featuring the Saxophone Section.
(note: sometimes the video stops in midstream to re-buffer. If you are patient and let the system run through the whole song, the second time usually has no problems).

Dianne Snyder vocalist.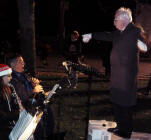 Don Swinchoski Leads the Band of Two Rivers.