CHRISTMAS IN NEW YORK CITY 2010
click on any photo to ENLARGE
December 18, 2010. Tony and Liese invited Paddy and me to see the sights in New York City and we quickly accepted. We traveled by NJ transit from Red Bank to Penn Station, a trip of about an hour and a half.
Penn Station had a large display case highlighting NJ including the Holland Submarine in Patterson, Newark NJ and Atlantic City.
We took a short walk from the station and Madison Square Garden toward Macy's. We passed street musicians, giant balloons and store windows with Christmas scenes.
Once inside Macy's we found out that Santa was on the 8th floor, and there would be Christmas decorations to photograph, so we headed to the elevator. While waiting, we had an opportunity to take our famous "mirror shot".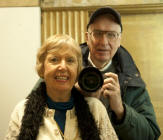 The Christmas decorations were fine and the Christmas staff was happy to have their photo taken. It was good that our kids were grown up, because it was an hour and a half wait to see Santa. We decided to have lunch at Macy's Cellar Cafe and were surprised to find that the waiting line diminished quickly and the table service was excellent.
Back on the street we found cartoon characters that the kids loved. Some of the characters wanted two dollars to have their picture taken.
Because it's New York City, protesters are common and today the anti-fur group was displaying their point of view. There were a half dozen protesters and not one of them displayed a relaxed demeanor; they looked like they were way overdue for a bathroom break.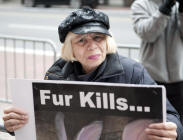 We came upon a "street vendor......" who ran up to me and strongly objected to my taking his picture. Tony noticed that he and his friends had their "stuff" in blankets, so if a cop approached they could gather up the 4 corners of the blanket and run off.
Spiderman was on duty saving lives, or at least lifting attractive females off the pavement.
Speaking of attractive females, these two girls drew my attention and I observed they they also accepted tips for personal photos. While I was all bundled up with a hood and heavy gloves, these girls didn't seem to be having a problem. Ahh, youth.
Everyone was taking photos today. Tony offered his photo services to three young ladies..
Lots of very interesting street scenes today, first, a couple reenacting the famous WWII kiss at Times Square, a lady advertising the King Tut exhibit, a strange fellow who was having a gay old time and many other photographic things of interest with a holiday flavor.
This was awesome, some vendor brought that exclusive Cashmere Wool all the way from Southwest Asia, turned the wool into scarves and these folks were able to sell them on the street for $75 dollars less than Macy's. (P. T. Barnum was right).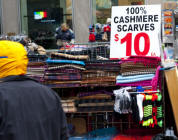 We took a photo of the famous Ball that will be slowly dropped bringing in the new year, to be witnessed by a million folks live at Times Square and by many millions on television.

As we walked toward Rockefeller Center we passed the Fox network, which was preparing for a live telecast from this area.
We turned the corner and there it was: THE TREE.
At Rockefeller Center, this ice cleaning guy was being seen by thousands, who were actually waiting to see the skaters. He really "milked it", going over the same strip several times, when it appeared to be nice and clean. When he finally put the machine away, the crowd broke out into a loud applause.
With our agenda completed, we started looking for a restaurant. The Hard Rock Cafe had an hour and a half wait, but fortunalely Paddy found a pub restaurant that seated us right away. After dinner we took a few more photos and headed back to Penn Station.
On the way home, this lovely elf, seemed to be inside the train restroom for a very long time. Eventually we heard her call out for help as the door wouldn't open. The conductor was summoned and he came into the car and rescued her.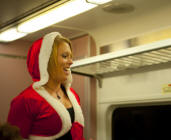 End of a great trip. Thanks Tony and Liese.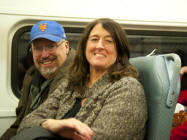 Paddy, looking forward to a cup of cappuccino at home and then off to bed.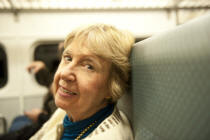 PHOTOS FROM OUR 2007 VISIT
click on any photo to ENLARGE
Sunday December 23, 2007. After visiting friends in Hoboken, we drove through the Lincoln Tunnel to Rockefeller Center, in Manhattan, NY to see the tree and all the other Christmas decorations. Kate phoned a friend in Brooklyn who met us by the Tree. It was raining, on and off, but it didn't deter the large crowd of visitors.
Saks Fifth Avenue is a favorite of visitors with giant building decorations as well as many windows with Christmas scenes.
Curious about Saks indoor decorations, Paddy and I stopped by and found it very nice inside.
Exiting Saks, I pointed the camera across the street to show how close together everything was.
Around the Ice Rink were many interesting holiday icons.
We headed past many well known spots on are way back to the parking garage. Our TomTom One GPS took us past Time Square and back across the Lincoln Tunnel to home.