CARNIVAL GLORY CRUISE SHIP
NYC - SAINT JOHN, NB
click on any photo to ENLARGE
June 5, 2011. Paddy, the world traveler, arranged a cruise from New York City to Saint John New Brunswick, Canada to see how I would like sea travel.
The first thing we did was check to see if our luggage had arrived at our cabin and check on how the room looked. Everything was fine !
There were 11 levels on the ship and we went to the open deck on level 10 to check out the New York harbor. Clearly in view was the USS Intrepid Aircraft Carrier, the New York Waterway ferry, Circle Line and of course the famous New York Skyline.
Shortly after viewing the Holland American line depart from an adjacent pier for it's cruise destination, the Carnival Glory public address system provided instructions on where to stand at specific locations on the ship for a safety lecture, demonstration on life jackets and emergency boat procedures.
Continuing our tour, the ship provided many physical activity venues including a basketball court, miniature golf, several heated spas, a running track, a water slide and several full size pools.
A major activity enjoyed by all passengers was eating the delicious food. There were a number of very large restaurants on the ship to accommodate the 3400 passengers and 1150 crew. The ship provided buffet style food choices for breakfast and lunch and a menu for sit down dinners. Also available was a Burrito cafe, a coffee and pastry stand, an elegant steakhouse which cost an additional $30 per person and of course: room service.
Amidships on the promenade deck was a most elaborate open elevator system. Throughout the ship at both forward and aft locations were at least a dozen other elevators.
High end shopping and variety souvenir shops were popular places to visit.
Paddy and I didn't partake of the casino but it was a very busy place each time we passed it. There were also many bars throughout the ship.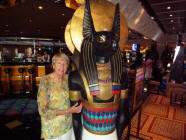 Through out the ship were many musical groups, art works and nice things to view.
One of the main attractions was the Amber Theater at the forward part of the ship which offered comedy shows, musicals, game shows and bingo. There was another theater aft for similar entertainment.
Under way, it was time to relax and enjoy the views.
Thirty eight hours aboard ship and we reached Saint John, New Brunswick. It was a delightful trip on Carnival Glory !