MERCHANTVILLE CAR & BIKE SHOW 2011
click on any photo to ENLARGE
July 9, 2011. The weather was sunny and warm. Living 1 1/2 hours away, this is the first time Paddy and I visited Merchantville, NJ. It's a very nice town and I was surprised and impressed at the size of the show, it was gigantic ! The show had live bands, DJ's, a Hula Hoop contest and more.
The town's 24 page program said there would be a dedication to our armed forces at the town Gazebo. Using the program map we ventured over to the Gazebo and found a large crowd and just in time to hear Bob Peterson sing the National Anthem. Mr. Peterson had a great voice and he did it without musical accompaniment which is hard to do. I met Mr. Peterson, who is a Viet Nam veteran and his friend, also a veteran who served in the middle-east.
On hand to present citations at this ceremony, were two highly decorated veterans, SFC Allen Rodesky, US Army (Ret.) and Lt. Col. Al Bancroft, USMC (Ret.).y, US Army (Ret.)
Citations, plaques and ribbons were given to current veterans returning home and those being deployed to the middle east.
Ribbons were also awarded to those who served our country years ago
One veteran, who had a list of citations a full page long, was singled out for his service to his county. Then the police stepped up to award him for his service to the local police force.
At the completion of the awards ceremony, the Color Guard, Honor Guard, and bagpipers, formed a parade, including a huge American Flag. This veteran dedication was a high point of the car show and it displayed the patriotism of the town of Merchantville, New Jersey.
The size of the car show was amplified by the size of the awards table. This was a serious car show.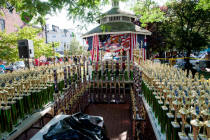 There were so many beautiful cars and I only photographed a sampling of what was on display.
While I was taking photos, this nice lady offered my wife a chair in the shade. She also mentioned that she had a Camero in the show, so I took a few photos.
Every once in a while you come across an original, unrestored vintage vehicle, this Chrysler Town and Country is one such vehicle. The owner is a relative of David Sarnoff, the founder of RCA.
Motorcycle award tables indicated the seriousness of the biker area too.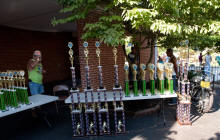 A splendid day in Merchantville New Jersey !