BRADLEY BEACH LOBSTER FEST 2011
click on any photo to ENLARGE
July 16, 2011. Perfect weather, cool ocean breezes and great seafood defined this year's Bradley Beach Lobster Festival.
Parking south of the festival, we came upon the vendor area first. I was hoping to see a demonstration of this product but they didn't do that; imagine the sales if they did......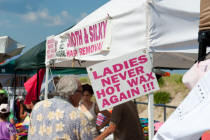 There were some amazing bargins in the vendor area. Wow, $2 t-shirts.
Interesting activities for the kids and the line was long for the water slide.
This answers the question: "Where do Walmart greeters spend their senior year?".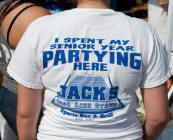 Food? Indeed, it was everywhere and delicious too. By my observation, Mr. Shrimp had the longest lines.

I always like to acknowledge the fireman and when I pointed the camera at the guy on the left, he said "no, take their picture, pointing to those sitting down". The other 3 said, "no take his picture".... So I took every ones picture. They all looked like a happy and friendly bunch.
After we purchased our seafood, we walked to the gazebo area and heard the RANDOM TEST band and they were very entertaining.
The "beer garden" was doing a brisk business and the ladies dispensing beverages were pretty. Everyone was having a good time.
It started way back in 2nd grade when his teacher wrote: "doesn't play well with others".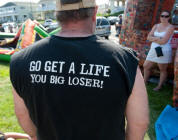 Many different clothes worn today, of course we were at the beach, within a hundred yards of the Atlantic Ocean. I noticed that the butt stamps on shorts have migrated from "pink" to "juicy" and now it's "monster energy", what's next?
The radio station with all the rats were present and this "Smoothy - Fresh Fruit" stand went to 1/2 price on everything and business boomed.
It was a fun day in Bradley Beach today with delicious seafood.
To view the 2010 Bradley Beach Lobster festival, Click HERE.