COLTS NECK SWING BAND 2011
MIDDLETOWN JAZZ & BLUES FESTIVAL
click on any photo to ENLARGE
(Note: Thanks Dennis Rittenhouse for filling in the names)
July 23, 2011. At noon, the Colts Neck Swing Band opened the Jazz and Blues festival at the Middletown Arts Center in Middletown, New Jersey with a compliment of 5 saxophones, 4 trombones, 4 trumpets, a keyboard, a bass, a guitar, a drum and a vocalist. The temperature was in the high 90's and the listening crowd was away from the bandstand at various places under trees and in the shade.
Rich Herzog provided introductions and was both a master of ceremonies and band singer.
Al Repoli, lead alto sax, was also the band leader.
Left to right: Paul Raymond on tenor, Diane Doolittle on alto, Al Repoli on alto, Dan Petrosini on tenor and Vinnie Soviero on baritone saxophone.
Left to right: Andy Andiorio on bass and Bob Pilcher on guitar.
Left to right on trombone: Dennis Rittenhouse, Dennis Eschbach, Tom Avakian and Dave Wells.
Left to right on trumpet: Don DelliPaoli, Fred Wolf, Eric Rosenberg and Carl Johnson.
On keyboard was Frank DeGregorio.
On drums was Len Simicich.
Despite the high heat and humidity, the music was so good that several folks had to dance.
At the completion of the job, Middletown's Deputy Mayor Pamela Brightbill, thanked the band for the great entertainment.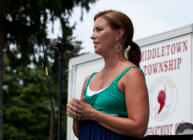 I also had a conversation with Tom Baldini, member of the Board of Trustees of the Jersey Shore Jazz and Blues Foundation about the splendid planning to make the day a success.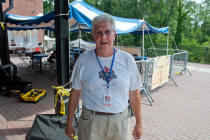 The following photos were taken at random during the concert.
Very talented musicians and most entertaining !!