CANAL DAY - WHARTON, NJ
click on any photo to ENLARGE
August 20, 2011. The Morris Canal was constructed in 1825 and covered 102 miles from the Hudson River in Jersey City to the Delaware River in Phillipsburg. It was the highest climbing canal ever built rising 1674 feet in elevation change. Railroads eventually took over transportation duties and the canal ceased to exist in 1924. A mile of the canal was restored and this festival celebrates the canal's place in history.
Upon arrival at the Hugh A. Force park, music was filling the air from the main stage.
There were many crafters at the festival and lots of folks around to buy.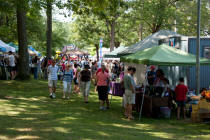 We came across the plaque showing who the park was named after.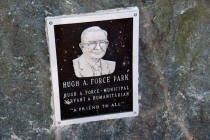 For the kids there was a park see-saw, and Sparky the Fire Dog was on hand today.
Another talented musical group called the Double-Breasted entertained the crowd. On Harp was Kristy Chmura, on Drums was Josh Bicknell and on Cello was Ardith Collins.
The Double-Breasted trio was interviewed for a video.
The Morris Canal was alive with kayaking, horse drawn carriage rides and a canal boat ride, and moms taking cell phone pictures of their kids.
Around the area of Lock #2, one could see that the canal was drained and filled in. At the same place were remnants of one of the many canal buildings that existed years ago.
It was a pleasant walk along the tow path and there were many photos showing the history of the canal.
There were many entertainment venues including marshal arts and cute animal displays.
Civil War re-enactors were on hand to show how life was during the encampments.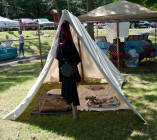 BBQ vendors were putting out some delicious food.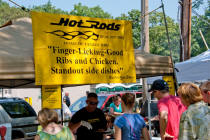 The US Marines demonstrated a remote controlled robot that can be configured to do numerous tasks in dangerous environments.
A blacksmith demonstration was interesting as one could watch red hot metal turn into something useful.
It was difficult to leave the park as yet another talented band played near the exit.
A delightful day in Wharton today.