THE MUSIC OF FRANK SINATRA WITH JACK GIAMPALMI
CONCERT AT THE ALLAIRE CHAPEL
click on any photo to ENLARGE
August 22, 2011. A most entertaining treat today at the chapel within the Historic Allaire Village.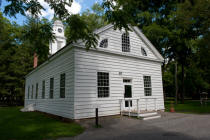 Starting the concert was Shannon Crumlish who introduced the band, then introduced Jack Giampalmi, band leader and vocalist. Jack immediately led off with a Frank Sinatra favorite.
The horn section consisted of (L-R) Al Repoli on alto sax, Walt Torie on tenor sax, Dennis Rittenhouse on trombone and Marcus Hulse on trumpet.
On keyboard was Karen Hedden, on bass was Andy Andiorio and on drums was Sal Sanfilippo.
The following photos were taken at random while enjoying the music.
Half way through the concert Jack Giampalmi introduced Shannon Crumlish, a student at Rowan University, as a guest trumpet player. Shannon sounded great and played a very nice solo.
A final set of photos and the concert was over.
In three weeks the band will again perform the Music of Frank Sinatra at the Allaire Chapel. (note: Allaire Village is non profit, it does not use tax dollars. Monies derived from concerts, historic events, school tours, craft tours, car shows, Halloween and Christmas events, wine festivals and sales at the general store benefit educational and history programs).