RODEO - SHAWNEE MOUNTAIN, PA
click on any photo to ENLARGE
September 25, 2011. Our first Rodeo and it was great. The event hosted by the Professional Rodeo Cowboys Association (PRCA) started on time and the opening included a procession of the ladies on horses carrying flags of all our military organizations. Old Glory was flown around the arena and then a special patriotic tribute was paid to our veterans after which, everyone sang our national anthem.
Following the patriotic tribute, all professional cowboys and professional cowgirls paraded around the arena showing their flags.
The first events were bareback bronc riding and saddle bronc riding. Many of the rides were short lived, and the few cowboys that could hold on for the full time limit, got a tremendous ovation from the audience.
Even after the rider was thrown off, many of the broncs were still kicking.
A very talented clown entertained the crowd with roping, bareback riding and humor.
Next event was calf roping.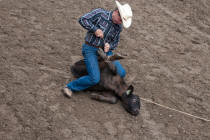 Next was the team roping event.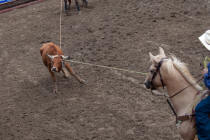 Next was steer wrestling.
The professional cowgirls competed in barrel racing.
Three quarters into the rodeo, there was a 30 minute break.
Then the exciting bull riding. Before the rider is thrown, the rodeo crew anticipates the next action to protect the rider.
It was a fast moving and very exciting rodeo !!