USS NAUTILUS LANDMARK
GROTON, CT
click on any photo to ENLARGE
October 14, 2011. On the way to the King Richard Faire in Carver, MA, we took a side trip to the Submarine Base in Groton, CT and found the Submarine Force Library & Museum. Not knowing what to expect, we were delighted to find that we could take a tour inside our nations first nuclear powered sub: THE NAUTILUS.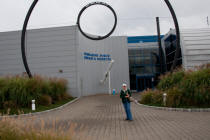 The museum had hands on displays and many plaques describing the history of the submarine.
Since it rained most of the day and it was clear at the moment, we decided to go immediately outside and visit the Nautilus. A number of commemorative plaques at the entrance to the sub displayed the historic significance to this Connecticut State Ship.
Paddy and I took a self guided tour.
Our impression was that the Nautilus was well appointed, it has lots of room and the crew must have been satisfied with the accommodations. At the same time, one had to realize that these surroundings were all there were for months and years, without going ashore.
After the Nautilus tour, we re-entered the museum and found some interesting movies that showed the launch of the boat and about it's historic voyage under the north pole.
There was history of submarines and some interesting things about John F. Kennedy and Senator Barry Goldwater using a specially constructed elevator.
No story is complete without torpedos and missiles.

A tour of the gift shop and back outside.
Outside near the parking lot were other historic things to see and touch.
It was a most interesting and educational visit about our submarines.