KING RICHARDS'S RENAISSANCE FAIRE
CARVER, MASS.
click on any photo to ENLARGE
October 15, 2011. Our fall trip took us to this faire because it was advertised as the largest and longest running Renaissance Faire in New England. The weather was excellent.
After paying our admission fee, we handed our tickets to this jolly bearded gentleman at the gate and met father nature.
The faire is on 80 acres of pine forest and it puts you in the mood for a most enjoyable glimpse of the 16th Century lifestyle.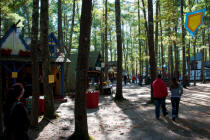 Not far from the entrance was this entertaining stage show, which included volunteers from the audience.
After watching the correct way to throw an axe, this lady took a chance and did better than most of the men who tried.
The skilled games cost $3 or $4, so if you brought kids, have your wallet at the ready.
Most of the vendors were displaying their wares with lovely young maidens.
We strolled past the food vendors prior to lunch to check out the menu. The numbers on the menu were the number of tickets required. Tickets were 50 cents, sold in $5 strips. Food was good.
There were over 100 artisans displaying their talents and offering their wares for sale.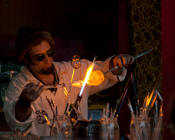 Many faire visitors wore very attractive period clothing and people watching was most enjoyable.
Paddy and I took our "famous" mirror shot and other interesting shots at the faire.
Dramatic shows with Siberian tigers, white lion and exotic birds.
Interesting and informative shows designed especially for the kids.
An expert with the whip entertained the crowd with his talent and his one liners, so cleverly phrased that the adults understood and the kids took them at face value. With his whip, he cut wooded strips, from the volunteer, within an inch of his fingers. At the end of his performance, he lit the whip and the flame was spectacular.
King Richard III held royal court at the field of battle, where knights competed in skill games and jousting.
The first tournament game was ride full speed and turn over a target with a lance, then to grab a ring with the lance.
The winner was invited to the King's throne area and received a metal.
The main event was jousting and many knights were knocked off their mounts.
One of the competitors violated the rules and was hung.
Lots of kids rides and things for kids to see and do.
It turned out to be splendid faire. We really enjoyed ourselves and it was clear that both adults and kids had a great time.