Veteran's DAY - RED BANK, NJ
click on any photo to ENLARGE
November 11, 2011. Red Bank Parks and Recreation sponsored a tribute to our Veterans at the Veteran's Memorial on Monmouth Street and Drummond Place.
The Master of Ceremonies introduced the first speaker: David Edgar, Exalted Ruler of the Red Bank Elks Lodge #233.
Rebecca Dorn, Music Teacher and Performing Arts Director of the Red Bank Charter School, provided a musical tribute to Veterans including several talented vocal solos.
Asked to stand and be recognized were, Veterans of Foreign Wars, Police and Fire department personal and mothers who lost sons and fathers in the service of our country.
An executive of McDonalds Corporation, provided supportive remarks dedicated to our Veterans.
The Red Bank Regional High School Marching Band, under the direction of Ms. Kerry McNulty, played a patriotic selection for all the attendees.
This Veteran's Day keynote speaker was Marine Lt. Col. Peter Mahohey who gave a stirring account of the sacrifices our men in women in uniform did to protect our freedom.
At the conclusion of his remarks, Col. Mahoney shook hands with the panel of dignitaries and gave consoling remarks to a mother who lost her son in the service of our country.
Red Bank Mayor Pasquale Menna, created a heads bowed, solemn moment, with a prayer to all the Veterans present and past who served our country, protecting our freedom.
Lead trumpet in the Red Bank Regional High School Marching Band continued the solemn moment with the playing of "TAPS".
Concluding the ceremony was traditional bagpipe music.
The Red Bank Elks invited all to partake of food at a reception at Lodge #233 on Front Street. David Edgar, Exalted Ruler of the Lodge played host to Col. Mahoney and his party.
Looking out the rear window of the Elks, one could not miss Old Glory and the POW-MIA flags.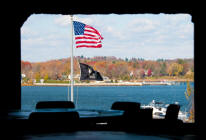 Once again, the Borough of Red Bank and the Elks Lodge #233 did a fine job of paying tribute to those Veterans who served, Veterans who now serve, and those who sacrificed all for our freedom.