PINE CREEK RAILROAD - SHOP TOUR
ALLAIRE STATE PARK - (GPS: Wall Township, NJ)
click on any photo to ENLARGE
March 8, 2012. The weather was very nice today and I thought I would drive to one of my favorite locations, the Pine Creek Railroad. I walked around the RR yard and took some photos that interested me.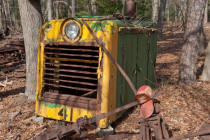 I wasn't in the yard very long when I met this very friendly gentlemen, Glenn Warner. We chatted awhile about railroading and Glenn asked me if I wanted to see inside the shop. My answer was quick: SURE !

It turns out that Glenn is a Trustee of the New Jersey Museum of Transportation. He is also proficient in many areas, including mechanics, boiler technology and is a walking encyclopedia of railroading and other subjects as well.

The Museum, always alert for new rolling stock, found this engine on the chopping block. It was going to be melted down for scrap and the Museum was able to purchase it at scrap value. So instead of eliminating another engine it is now preserved in history.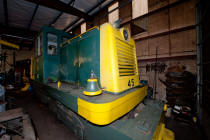 This vintage lathe, while being very old, still maintains it's tolerance and is used often in the shop.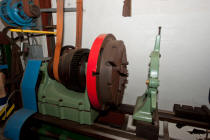 The shop is capable of a repairing and refurbishing much of the high tolerance boiler requirements specified by the State Of New Jersey. On a yearly basis, NJ inspects all boilers capable of developing steam pressure.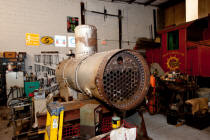 The Pine Creek shop had many projects, and I was surprised to find out that all of these projects will be accomplished by an all volunteer staff. Mr. Warner also mentioned that when tourists purchase a ticket to ride the train, a dollar of every ticket goes to paying insurance.
Shop tour completed, I took a photo of the steam engine and passed the tall Pine Creek icon which was one of two engines in the steam powered boat in Keansburg many years ago.
Many thanks to Glenn Warner for the shop tour and for all the interesting information on railroading and many other subjects to which he is knowledgeable.