RAMANESSIN TRAIL - PART OF HOLMDEL PARK
HOLMDEL, NJ
click on any photo to ENLARGE
March 17, 2012. I was sharing emails with my friend Jim Hawkins about photography. He told me that if I wanted to take some photos of old crumbling buildings that I should check out the Ramanessin Trail. I was surprised that it was part of Holmdel Park because I passed this trail many times without taking notice.
The trail is close to the Holmdel Park main entrance. Coming down Roberts road, instead of turning right for Holmdel Park and the Longstreet Farm, you keep bearing left and in about 2 city blocks you will be there.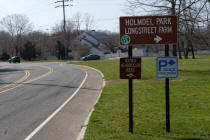 Once you arrive at the Ramanessin parking area, you can look back and see how really close you are to the Longstreet Farm.
The main trail starts right off the parking lot.
There are 3 trails: Ramanessin Trail- 2.1 miles, Steeplechase Trail-1.4 miles and the Homestead Trail-0.25 miles. We selected the short trail to take Homestead photos.
When we left Ramanessin Trail we stopped briefly at Holmdel Park and discovered all the parking spaces taken and saw a very large number of people walking around, as compared to Ramanessin which had only 3 cars. So if you wanted a quiet walk out in nature, Ramanessin would be your choice. (today was our first visit).