THE BLUE MOON KRUIZERS
CHICK-FIL-A HOWELL, NJ
click on any photo to ENLARGE
April 7, 2012. My first visit to this classic car show hosted by The Blue Moon Kruizers, and it was impressive because there were well over 200 cars on display. At 5 PM the club opened the event with the public address announcement of respect to our flag followed by the playing of the National Anthem and God Bless America. A very nice start indeed.
The weather was sunny and warm and I had no agenda, I just wanted to walk around, enjoy the cars and take photos. Some of the cars were awesome.
There were a number of club members helping with parking and a look at the trophy box indicated that some folks would go home as winners and happy campers.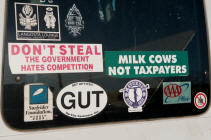 An excellent car show, many cars and many attendees.