PINE CREEK RAILROAD - BUNNY TRAIN
ALLAIRE STATE PARK - HOWELL, NJ
click on any photo to ENLARGE
April 7, 2012. The day before Easter and the Pine Creek Railroad had another special events train - The Bunny Train.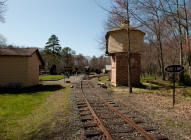 The Easter Bunny waved good-by to those who just got off the train and got prepared for the next train.
The Bunny Train was very popular as shown by the long line of those who were cued up for the next ride.
There was an open air car and a closed care. Photographers were on hand, especially at the open air car.

The train was about to depart and the Easter Bunny posed for one more photo. One could see the bunny passing through the closed car saying hello to all the kids.
An added bonus to the day was a blacksmith who demonstrated making and tempering heavy duty tools.
Yep, another fun day at the Pine Creek Railroad and Allaire State Park.