RED BANK INTERNATIONAL FLAVOUR FESTIVAL
click on any photo to ENLARGE
May 6, 2012. The festival was held in the large municipal parking lot behind the Dublin House. The weather was great and the crowds were there in force. The festival sponsors were: Heineken and the Asbury Park Press.
After parking, Paddy and I followed the crowd to the festival.
We were very hungry, so we decided to make a quick trip around the festival and pick a meal. We passed a number of our favorite restaurants and we were lucky to find a couple of seats at a table, to enjoy our lunch.
Sitting at the west end of the festival we couldn't help but hear the band at the All American Stage. After eating, we walked over to the stage and saw Mayor Menna and heard the dignitaries make short remarks. There were many spectators sitting in folding chairs enjoying the band.
No festival is complete without people watching, a most enjoyable activity.
One of the festival sponsors was Heineken and their beer area was doing just fine.
There was a very colorful band waiting to play; however, the loudness of the other bands, on stage, led us to believe that this band was waiting for a break during a change of bands. As a result, we never heard this band.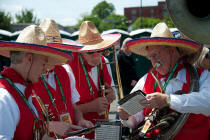 At the east end of the festival was the International Stage. More good music indeed.
The Central Jersey Police Fire Pipes and Drums provided unique entertainment at the festival. Each time they finished a number, there was vigorous applause from the audience.
A great day and another fun event in Red Bank, New Jersey.