HOT RODS AND HARLEYS 2012
RAHWAY, NJ
click on any photo to ENLARGE
May 12, 2012. As Paddy and I approached the center of town, it was clear that this years' event was the largest we have seen because cars were placed where there were no cars in previous years. A police officer told us the there were 500 registered cars an many more that just showed up.
After parking at the City Hall complex we started our tour.
We got hungry and stopped for lunch at the Cubanu Restaurant. Good food and the table at the window gave us a good view of the festivities.
Back on the street, we heard a very lively band and watched this little kid dance and pretend to play the guitar. He was cute.
We took a walk up to Liberty Harley Davidson and went inside for a look.
Outside Liberty Harley Davidson, many bikers took advantage of the large parking lot.
Back in the very center of town Liberty Harley Davidson had set up a large display including a live test stand for teaching prospective buyers how to start the bike and shift gears etc.
Upon seeing this pink motorcycle, my mind shifted back to the 50's when Lionel Trains came out with a pink engine to encourage girls to play with trains. The pink train was not well received and not too many sets were sold; however, as years went by, the Pink Lionel became a very valuable collectors' item and the price was many, many times it's original value.
As we strolled past the numerous cars, up ahead we saw a huge crowd which practically blocked the whole street. As we approached, we heard some great music and wondered if there was some named band playing. When we got close enough, and I was able to look over the shoulders of the many in front of us, it turned out to be a kids band playing very professional music. The band name is FaZe4 Rockers, there is no doubt we will all hear about this band in the future, they were awesome.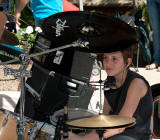 It was a day for wearing colors. The Pagan's seemed to dominate the scene. I have never seen a biker put a patch on his bike that said: "Property of K-Rock" so why do they put a patch on their girlfriends?
Girl watching is always a great sport at this event.
At 82 degrees, it was the "dog days of summer".
Back on our tour, we took a few more photos.