SAINT CHARLES RIVERBOAT
PERTH AMBOY, NJ
click on any photo to ENLARGE
June 16, 2012. At the site of the Cornucopia Cruise Line with it's modern cruise ships: (Majesty, Princess and Destiny) is a vintage Paddlewheel Riverboat. Driving north onto the Rt 35 bridge one can see the paddlewheel boat off to the right. Exiting the bridge, turn right at the first traffic light and follow signs to the Cornucopia Dinner Cruise.
The paddlewheel boat once ran out of St Louis, MO. Now residing on the Raritan River in Perth Amboy, the riverboat is being upgraded and refurbished into a first class hotel and restaurant.
Paddy and I visited the paddlewheel riverboat in 2009 and again in 2010, and took some photos. At that time, the riverboat was under serious renovation.
On our June 2012 visit we met Mustafa Kilic, president of the Cornucopia Cruise Line, who graciously allowed us on a self guided tour to re-take photos.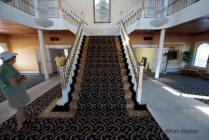 The transformation of the Paddlewheel Riverboat from our initial visit in 2009 was amazing. While not yet completed, everything is being built to first class standards and will be a wonderful place to visit, dine and dance.
While there are stairways to all areas, for unique photo opportunities etc., those who prefer to ride can take elevators to every deck.
On the upper decks are staterooms, which are in the initial phase of outfitting.
Strolling aft, we found another dining area with a great view of local bridges and activity on the Raritan River.
To our view, the St. Charles Riverboat looks like a unique and elegant facility to dine, dance, hold weddings and enjoy holiday parties.
Seven days after Hurricane Sandy, Monday November 5, 2012, Perth Amboy, NJ.
I wondered how the St. Charles Riverboat faired in the hurricane, so I took a drive up to Perth Amboy. At first it looked untouched, but one of the workman told me what happened.
If you look at the original photos from 5 months before the hurricane you will see a walkway all around the riverboat.
The after storm photos showed that the walkway was gone. The workman said that Inside the riverboat, nothing was damaged.
The modern cruise ship fleet was moved a mile away to ride out the storm and nothing happened to those fine vessels.