THE GEORGE SHEEHAN CLASSIC
Red Bank, NJ
click on any photo to ENLARGE
June 16, 2012. The annual George Sheehan 5K classic was held in beautiful weather.
Upon arrival on Broad Street, many participants were stretching, others relaxing an others were just standing around waiting for the start of the race.
A few visitors looked like they were in shape to run, but they didn't.
A few minutes before the start of the race, George Sheehan's son made a few remarks in tribute to his father and wished everyone a fun race.

With the precision timing gear at the ready, the race began.
Sometime between 20 and 40 minutes, these folks came across the finish line. Some looked exhausted, many looked in pretty good shape.
I liked this young man's shirt.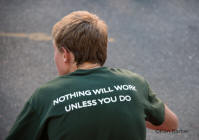 Yes indeed, another fun day in Red Bank.