JERSEY SHORE JAZZ AND BLUES FESTIVAL
MIDDLETOWN, NJ
click on any photo to ENLARGE
July 7, 2012. I parked my car by the Middletown Arts Center around 1 PM and entered the festival grounds adjacent to the Arts Center building.
A few steps into the fest and I heard a most lively and entertaining sound. It turned out to be music from the Red Bank Blues Band.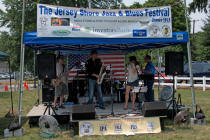 Each musician was very talented and a master of his instrument.
L to R: Paul Bracco - guitar & vocal, John MacDonald - Bass, Michael Ghegan - tenor sax.
Alex D'Agnese on drums and Kendall Scott on keyboard.
The pretty female vocalist, Melissa Murray, had an excellent voice and also drew crowd attention by her good looks.
The Red Bank Blues Band had an exciting sound and I will have to look for them at other venues in the future.
I returned to the festival around 7 PM with my wife and heard another band. I started taking photos, working my way from the back to the front. When I got to the front of the band, a guy approached me and identified himself as "Big Al" and he said he was with the Jersey Shore Jazz and Blues, and suggested that I was in the way because he was making a video, pointing to his camera. I stopped taking photos of the band and left the area.
It was a extremely hot early in the day and it kept some from attending. The highlight of the day was the enjoyment of listening to the Red Bank Blues Band.