DAVID BANEGAS STUDIO
RED BANK, NJ
click on any photo to ENLARGE
August 5, 2012. On a previous visit to Red Bank, we passed this amazing painting of Jack Nicholson from the movie The Shining. We stepped inside the studio and the artist was fast at work on a new project. It was exciting to see such talent at work and rather than disturb the artist, we determined that we would revisit another time.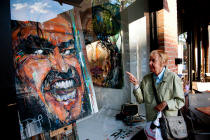 The weather this August evening was very pleasant and we took an after dinner stroll down Broad Street. Remembering our previous look at the Nicholson painting we entered the Banegas Studio and met the artist David Bangegas.
After marveling at the amazing paintings on his studio wall, I asked artist Banegas if he would allow me to take photos of his work and make a webpage. Mr. Banegas was very positive about the idea and gave me his approval. I wish these photos would convey the talent and feeling of his works of art, but I can say without hesitation, that only a visit to the Banegas Studio would provide the real appreciation and feeling of his work.
I read the bio of David Banegas and found out that this native of Bolivia, was discovered while showing his work at an art gallery at age 11. When David was 12, he painted a portrait of Bolivian President Banzer, who was so impressed with David's portrait, that provided the opportunity for David to study under an old Japanese master, Masaiko Fujjita.
I find it difficult to understand how someone can capture the essence a person on canvas, so when I see it I'm in awe.