MUSIKFEST 2012 - BETHLEHEM, PA
click on any photo to ENLARGE
August 8, 2012. Paddy and I arrived before 3 PM and after checking the daily Musikfest schedule, realized that the bulk of the musical activities wouldn't start until 5 PM. Perhaps that is why we found a parking place near the festival. At 3PM, the streets were very light with people, but starting at 4PM on, the crowds continued to grow very large.
We started our tour by doing some window shopping and checking out the arts and crafts area, which were very active early in the day.
When vendors put attractive young ladies with smiling faces on their staff, it puts smiling faces on the public too !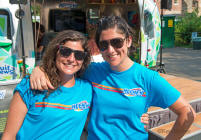 We stopped at Volksplatz to see and hear the Djembe Jam with Moe Jerant. It was an all drum entertainment venue and 60 drums were handed out to the audience to participate. It was fun.
This Cast in Bronze musical venue featured a 4 ton Medieval Carillon. Combined with other musical sounds, this 35 bell carillon, built in Pennsylvania, generated a most unique sound. The temperature was nearly 90 degrees with high humidity, yet the master of the carillon, Mr. Frank Dellapenna, was in an all black outfit and wearing a mask. Mr Dellapenna is a most talented musician playing a very difficult instrument to have mastered. (There are now three traveling carillons in the United States, making simultaneous engagements, thus, there are also 3 master musicians).
Glassblowing is a fascinating talent, transforming a chuck of glass into a work of art.
At Festplatz we enjoyed the music of Copper Box playing American Polka.
When we past the Karl Ehmer sausage stand, my mouth starting watering for one of those fine sandwiches, but after 3 hours of walking around in the high heat and humidity, we settled for dinner at the air conditioned Hotel Bethlehem. Dinner was excellent (we've dined at the hotel many times in the past) and a musical treat of piano and bass provided a nice background.
Back on Main Street, we found numerous street musicians. The crowd listened with both awe and calm.
Some stores had their unique and entertaining way of advertising their wares.
A unique and talented troupe provided music, magic, and escape from a straight jacket.
Behind the Sun Inn, at Liederplatz, we found the New Sweden musical group. Lots of good music and the crowds were large.

On Main Street were many different scenes to make one take notice.
Having spent enjoyable hours at Musikfest, we returned to the car and for a short distance, we followed Bethlehem's finest.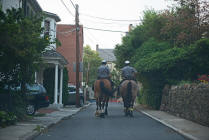 Click HERE to view our 2011 visit to MUSIKFEST